Koffee's Music Makes "Everybody Lift Up Like Helicopter"
Bob Marley's legendary Tuff Gong Studios was the location for an exclusive preview of Koffee's highly anticipated debut EP,
Rapture
. The artist born Mikayla Simpson—who just turned 19 last February 16–first popped up on Rebel Salute 2018 as a guest of Cocoa Tea and has been hot like a thermos since the release of her single "Toast" late last year. Born in Spanish Town, Koffee was inspired by artists as diverse as Protoje and Supercat, and has been cosigned by Chronixx, who appeared alongside her on a freestyle video shot in this very same studio. Tuff Gong packed with Jamaican media and Boomshots' own Reggae Girl About Town Reshma B was there soaking up the vibes. Check out her on-the-scene interview with Koffee and a surprise guest who attended the listening.
Video & Interview After The Jump…
Koffee & Govana Inside Tuff Gong Studios
An accomplished guitarist and singer songwriter, Koffee cannot be pigeonholed in any one genre or style, despite her obvious love for reggae and dancehall. She wore a Fugees T-Shirt to the Tuff Gong listening, and cites Bob Marley, U.S. rapper Smino, UK Grime artists Giggs, and Afrobeats star Mr. Eazi as personal favorites. "I'm from Spanish Town," she explained to Reshma B in a recent interview for
VIBE.com
. "Jamaicans on a whole, we like vibes. We like lyrics that, as we would say, "it slap!" It touches you, and really hits that spot. So I listen to a lot of different things, and the lyrics that I listen to aren't always conscious. But what I derive from music is not necessarily the message. Sometimes the flow that you're hearing, that's the wave for the moment. It may not be the best for the youth, but that's what people like to vibe to. So you take that vibe, put a positive message to it, and that's the spin. So I listen very widely." That diversity was further displayed when Koffee treated those gathered inside the studio to a sneak preview of a very special remix track. Reshma B spoke with her on the spot and also caught up with Govana, who was in the building showing his support for Koffee.
That's cool to have the credibility where other artists respond to you like that. I'm sure it's not always easy.
No, it's not always easy. Me haffi give thanks for the way people have been responding.
So nobody's kissed their teeth like, "Nah"? [Laughs]
No, not yet. [Laughs] But what I have to appreciate is when another artist really listens and pays attention. Sometimes an artist can be good and they don't get the response or the attention they deserve. Some people don't want to listen, so I give a lot of respect to who is willing to listen
With so much buzz ahead of Koffee's Rapture EP release, we've got a feeling the teenage sensation is going to find a lot of listening ears out there.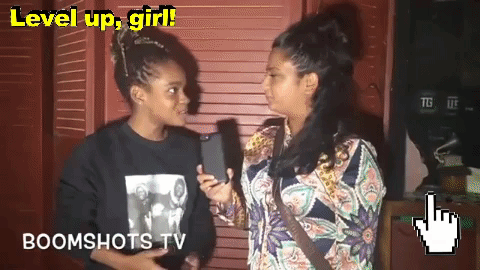 >>> Check out the full interview by Reshma B on VIBE.com !!!
Pre-Order Koffee's debut EP, Rapture
Like Boomshots on Facebook
Follow Boomshots on Twitter
Follow Boomshots on Instagram